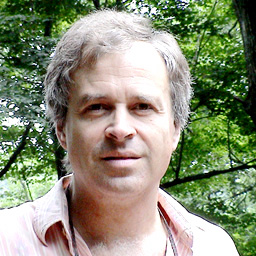 Étude des changements climatiques
par approche multifractale
lovejoy [at] physics.mcgill.ca
Mots clé: Nonlinear geophysics, fractals, multifractals, atmospheric physics, turbulence, hydrology, physical volcanology
Here is a numerical simulation of clouds and pollution.
My research is heavily influenced by ideas in chaos, scaling and fractals. The long-term goal is a systematic investigation of the scaling symmetries of geophysical and atmospheric systems. Since 1979, I have been involved in advances in scaling notions, demonstrating that geophysical problems could provide a role in stimulating advances in physics, and could act as unique laboratories for nonlinear dynamics. Highlights of these advances include multifractals, generalized scale invariance, universal multifractals, the codimension formalism for multifractals, continuous cascade processes, vector and tensor multifractal processes, and the multifractal phase transition route to self-organized criticality.
This work has been directly linked to a series of new geophysical paradigms. A particularly exciting one is the idea that atmospheric dynamics repeat scale after scale from large to small scales in a cascade-like way. The key is recognizing that as the scales get smaller, the horizontal gets "squashed" much more than the vertical so that the stratification which starts out being extreme (structures very flat at planetary scales) become rounder and rounder at small scales. This has been directly verified using nearly 1000 satellite photographs (Lovejoy et al 2001), and more recently by state-of-the-art lidar and using pollution as an atmospheric tracer (Lilley et al 2004). We also discovered that aircraft can have fractal trajectories (Lovejoy et al 2004) and have thus been able to explain previously published aircraft wind and temperature data showing that they support this 23/9 dimensional "unified scaling" model (see our recent press release).
In the area of solid earth studies, we have shown that the surface topography is a universal multifractal, showing that - contrary to prevailing wisdom - scaling surfaces cannot generally be regarded as self-affine fractals (Gagnon et al 2003). Similarly, the variability of the earth's surface magnetic field can be explained by a similar scaling stratification of the rock susceptibility (Lovejoy et al 2001). We have also studied bubble coalescence processes (Lovejoy, Gaonac'h, Schertzer 2004) in magma and related this to percolation and explosive volcanism (Gaonac'h, Lovejoy, Schertzer 2003).